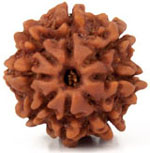 The seed of the Rudraksha tree holds a very special place in Hinduism, and is credited to possess mystical and divine properties.




Necklaces made of Rudraksha beads are considered auspicious as well as powerful, and are supposed to have profound astrological and health benefits. It is believed that one who wears Rudraksha is untouched by sins, and is protected from all impious deeds or thoughts.

'Rudraksha' has its etymological origin in the Sanskrit words, 'Rudra' and 'Aksha'. 'Rudra' is another name for Lord Shiva, and 'aksha' means teardrop. Mythological tales have it that the Rudraksha plant was born out of Lord Shiva's tear drops. Ancient scriptures, such as 'Shiva Purana', 'Padma Purana' and 'Srimad Bhagavad' mention the greatness and wonderful powers of the Rudraksha. For thousands of years, they have adorned the bodies of sages and saints leading a fearless life in far-flung frontiers seeking enlightenment and liberation.